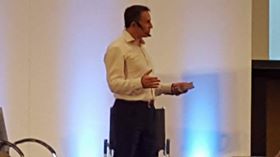 Garry Jones is a Transformational Coach, International Speaker and a Martial Arts Master.
Having worked for twenty years in private industry, it was here he discovered his passion for developing people, helping many attain top level careers worldwide. His coaching and mentoring has now helped individuals and groups as diverse as CEOs and martial arts fighters across the globe.
He has proven success with sufferers of anxiety, depression, stress and PTSD using an array of techniques garnered during his diverse life experiences.
Garry believes that the core risk to success is you, plus the environment you choose to be in. He will give you the tools to become the best you can possibly be, regardless of your perceived limitations. His vision is to have a lasting impact on 300 million people and to stretch the boundaries of accepted belief in the capacity of the human brain.
Garry has a special interest in helping those with mental health challenges, and regularly does voluntary work for those suffering from PTSD.